MFL Electronics Module (point at main canister (where the left dot is)

Houses Electronics, Data Storage, Batteries and IMU
Integrated high resolution IMU/XYZ conforms to WGS84 Standard

Dual data recording – both distance and time based data. (point at Odometer (wheel at the top of the tool, sticking out)
Tow section can be changed out for tether MFL applications (point at toe section – the metal part on the very right of the tool)

Measurement Module (point at the center)

UltraHigh Resolution MFL
Tri-Axial Hall sensor for complex corrosion and pin-hole detection
Integrated Secondary ID/OD sensors makes for compact design
Mag-bar Based design for improved flexibility
Wheel based yoke to reduce friction and stabilize velocity (this can stay here, or pull out on its own, pointing at where you have the right-side position)

Caliper Module (point at the center

Detachable to run as stand-alone caliper, for maximum flexibility in the field
Multi-Chanel caliper (this can stay here, or get pulled out on its own, pointing at the fingers at the back)
Records independent time and measurement based data. (this can stay here, or be pulled out pointing at the odometer wheels like on the mfl module)
Analysis Solutions
Reporting

Formatted to integrate seamlessly with your PODS system
POF standard nomenclature, modifiable to yours standards
Customizable remaining strength calculations
Delivery Timing

Field verification 24-28 hours
Preliminary report – 14 business days
Final Report – 30 business days
Expedited reporting available

Data

DATsurvey data viewer provided

No installation required
No license required

Raw-processed data provided at no charge
(put the datasurvey picture in this section)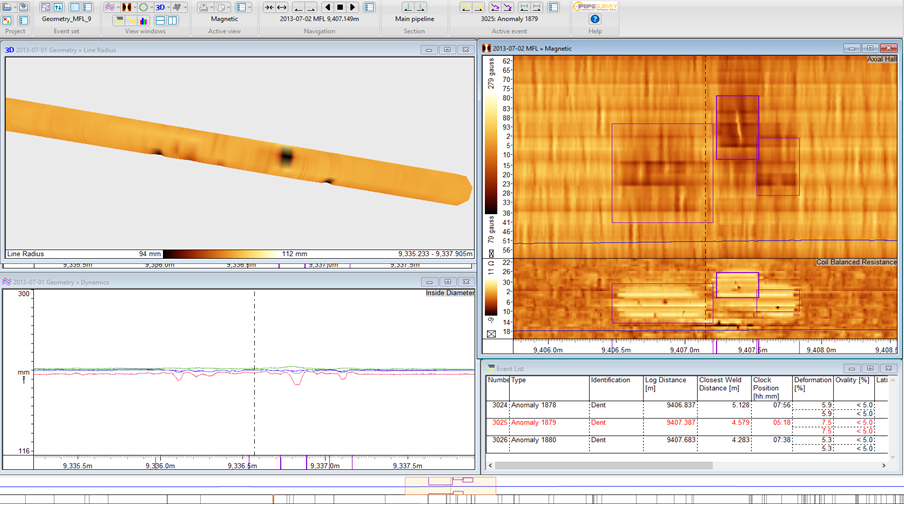 Advanced Analysis

Fit For Purpose Assessment
Dent Strain
Bending Strain (single line, and comparative)
Corrosion Growth Assessment
Recommendations on ILI program and inspection frequency
Quick Turn Around
Field reports available in 24-48 hours
Preliminary report in 14 days
Final report in 30 days.
Expedited reporting available
Fleet Information
Internationally proven experience since 2002.
Houston based fleet (6" – 36")
Additional sizes available from Pipesurvey International
Custom Solutions
Dual-diameter and Multi-diameter fleet available

We will create customized size combinations for your applications.

Low Flow expertise

Longest run – 20"x52 miles run over 27 days.
Customizable for your needs

High Flow/High Speed

Active Speed control available.
Speed control adjusts to line conditions every 10 seconds

Tethered and Bi-Directional

BiDirectional fleet available
Both 1 sided or 2-sided tether applications.
Hazardous products – (I think we should leave this off for now, as we have not decided if we will target these markets and we don't have equipment available at this time.)
About Us
Pipesurvey USA, LLC is a partnership founded in 2019 between Pipesurvey International and Invacor to bring world class, proven in-line inspection tools and software to the US market. Headquartered in Houston, TX, Pipesurvey USA's highly skilled engineers, operators and data analysts provide a broad range of experience and expertise to meeting the unique needs of US pipeline operators.
Pipesurvey International has continually advanced and evolved inspection technologies to meet evolving global needs since 2002. This includes creating bi-directional and multi-diameter solutions, as well as expertise operating in challenging flow regimes. Pipesurvey International consists of creative and skilled engineers with a dynamic pioneering-spirit who are passionate about solving pipeline threats, including the tool and software's original creators.
Together, Pipesurvey USA and Invacor offer a full suite of pipeline integrity services, either stand-alone or as total integrity solutions with one team, one quote, and one invoice.